Gerald Nailor - Brief Biography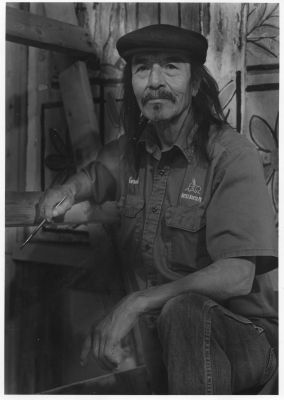 Gerald Nailor was born and raised at the Pueblo of Picuris in North Central New Mexico. He developed his love for art at an early age, being greatly influenced by his father Gerald Nailor, Sr. (1917-1952), a renowned Navajo painter whose murals decorate the Navajo Council Chambers in Window Rock, Arizona and the Department of the Interior Building in Washington, DC.
Gerald attended the Santa Fe Indian School from 1954-1958, where he studied Native American painting under excellent instruction. He painted in all media, preferring oil and watercolor. His work can be viewed at the Millicent Rogers Museum (permanent collection), Taos, New Mexico; Indian Pueblos Cultural Center Museum (permanent collection), Albuquerque, New Mexico; DeVargas Mall (on going skylight project), Santa Fe, New Mexico; Stables Art Gallery, Taos, New Mexico; and with private collectors across the country. His work was a blue ribbon recipient at the Eight Northern Pueblos Art Show at San Ildefonso Pueblo in 1982. His print "Matachines at Picuris" adorns thirty-one of the suites at the Hotel Santa Fe and his painting of "The Picuris Basket Dance" hangs above the front desk at the Hotel Santa Fe.